Cannabis Infused Cinco de Mayo Drinks
BACK
---
9 min Read
ORIGINS CANNABIS
---
5 Cannabis Infused Cinco de Mayo Drink Recipes
Many people use Cinco de Mayo as an excuse to drink margaritas, eat tacos, and celebrate with their friends and family. I mean who wouldn't want to? In all reality, this holiday is much more meaningful!
May 5th is a day used to celebrate the Mexican army's victory over France at the Battle of Puebla during the Franco-Mexican War in 1862. Many believe that Cinco de Mayo is Mexican Independence Day. However, this is a misconception. In the United States, especially in high Mexican-American populated areas, this day is widely interpreted as a celebration of Mexican heritage and culture. Understanding the significance of a holiday is important, especially when you decide to celebrate it!
We all know that celebrating the holidays is the best part! Margaritas are usually the drink of choice when it comes to this Mexican holiday celebration, but if you're not a fan, try other fun drinks like mojitos or sangria. What better way to celebrate Cinco de Mayo than a cool, refreshing drink?
Here at Origins, we want to help you take your one-of-a-kind drink recipe a step further and recommend making them cannabis-infused! If you don't have a favorite drink recipe or want to step out of your comfort zone, you have come to the right place. Keep reading to learn about more cannabis-infused beverages to try during your Cinco de Mayo celebration!
Best Weed Infused Drink Recipes for Cinco de Mayo
1. Classic Canna-Margarita
The one and only well-known, simple, yet classic Cinco de Mayo drink, a Margarita! This recipe calls for tangerine powder as the strain paring ingredient. If tangerine powder isn't available in your area, you could also try using this tangerine infused beverage. In order to achieve that tequila and lime flavor, a splash of Cointreau is recommended to mute that citrusy flavor.
Ingredients:
2 ounces tequila (reposado or silver)
1-ounce fresh-squeezed lime juice
¾ ounces Cointreau
10mg* worth of Tangerine Power or tincture
Salt (optional) and lime to garnish
Directions:
Add liquid ingredients to a cocktail shaker and shake with ice until cold and thoroughly mixed.
Wet rim of a rocks glass or margarita glass with lime juice and dip in salt, if desired.
Strain cocktail into glass over fresh ice. Garnish with lime and serve.
2. Cannabis-Infused Strawberry Mango Sangria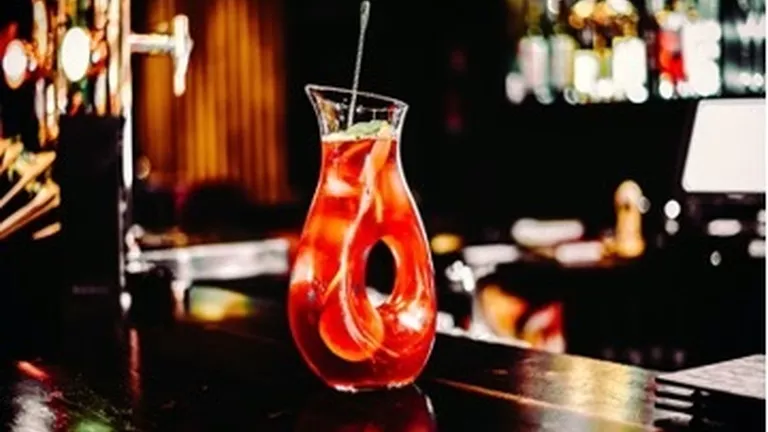 If margaritas aren't your thing, try out this canna cocktail at your Cinco De Mayo celebration! This sangria contains the perfect combination between fruity and flavorful. With a few steps, this drink will be ready to get the party started!
Ingredients:
⅛ ounce cannabis
Cheesecloth (DIY tea bag, whichever is cheaper)
1 bottle white rum
3 mangoes
1 pound strawberries
1 cup sugar
1 cup water
1 bottle Sauvignon blanc
1 cup fresh orange juice
2 cups club soda
Directions:
Decarb ⅛ ounce cannabis in the oven at 240 degrees for 30 to 40 minutes to activate the THC. Grind cannabis.
Using a pantyhose or cheesecloth, make a DIY tea bag filled with cannabis grounds.
Insert the DIY tea bag inside a bottle of white rum. Close the lid, and refrigerate for 24 to 48 hours. If you refrigerate for 7 days or longer, it will extract more THC out of the bud.
Cut the strawberries in half, and remove stems. Dice the mangoes.
In a saucepan, combine sugar, water, and half of the halved strawberries. Bring mixture to a boil, then let simmer, stirring occasionally. Let cool. Then using a sieve, strain the strawberry syrup. Place the syrup in the refrigerator to cool.
In a pitcher, combine mangoes and the remaining strawberries. Add strawberry syrup, 1 cup cannabis rum, Sauvignon blanc, and fresh orange juice, then mix together. Refrigerate for 4 hours.
When you're ready to serve, add 2 cups of club soda. Pour into glasses, and spoon in fruit. Top with more soda. Serve.
3. Mai High
For our cannabis and rum lovers, we recommend this mai high recipe! This combination of various fruity flavors will hopefully leave you relaxed and refreshed on your May 5th celebration. Try it out for yourself!
Ingredients:
2 oz Weed-Infused Rum
3/4 oz Freshly Squeezed Lime Juice
1/2 oz Orange Curaçao
1/4 oz Rich Simple Syrup
1/4 oz Orgeat
1 Mint Sprig/Weed Leaf (for garnish)
Directions:
Combine all ingredients in a cocktail shaker.
Shake vigorously.
Pour the entire contents into a double old-fashioned glass.
Garnish with the juiced lime half and a mint sprig and/or pot leaf.
4. Cannabis Mojito
It's time to shake it up on Cinco de Mayo with this refreshing cannabis-infused mojito. All it takes is a few ingredients to start shaking your maracas and celebrate!
Ingredients:
1/8 Ounce Cannabis Oil
1 bottle of white rum
1 1/2 tbsp Sugar
12 Mint leaves
Directions:
Set your oven to 240 degrees Fahrenheit
Decarboxylate your cannabis: placing it in an oven tray and wrapped up in tin foil. Place your cannabis in the oven for a minimum of 20 minutes. Up to 40 min.
Wrap your decarbed cannabis in a pantyhose or small cheesecloth and wrap tight so it will fit into the top of the rum bottle. And place it in your rum bottle.
let stand for at least 24 hours, and shake every 12 hours.
In a 10-ounce glass, stir together lime juice and sugar until sugar dissolves.
Add 1/4 cup crushed ice.
Rub mint leaves over the rim of the glass, then tear leaves in half and add to glass. Gently stir for 15 seconds, then add cannabis rum, remaining crushed ice, and sparkling water.
Gently stir for 5 seconds, then tuck mint sprigs into the top of the glass and insert a tall straw.
5. Infused Strawberry Rhubarb Margarita
Like we stated before, margaritas are the drink of choice on Cinco de Mayo. So we had to finish our list of recipes with a margarita of course! This strawberry rhubarb margaritais all about finding that sweet to tart balance.
Ingredients:

Simple Syrup:
1 ½ – 2 cups rhubarb, sliced into 1/2″ crescents (approximately 2 medium stalks)
½ cup agave syrup
½ cup water
Cocktail:
2 cups strawberries (either fresh or frozen will work)
¼ cup fresh lime juice
Zest of 1 lime
¼ cup + 2 TBSP rhubarb agave simple syrup
3 ounces tequila (2 jiggers)
1 ½ ounces triple sec or Grand Marnier (1 jigger), or orange zest (totally fine to leave this out if you don't have or don't like)
2-4 drops canna tincture
Ice
Directions:
Step 1: Make the simple syrup
Combine ingredients in a saucepan, the rhubarb may stick out above the water/sugar solution but will cook down quickly.
Simmer over low heat for approximately 8 minutes, stirring occasionally.
Remove from heat, let steep for 10 to 15 minutes.
Strain contents through a fine-mesh sieve or cheesecloth into a mason jar. You will have more than what's needed for this recipe.
Step 2: Mix your cocktails
Combine all ingredients in a food processor or blender and pulse to achieve your preferred texture.
Pour over ice and serve.
Alternatively, you can add ice to your blender if you prefer a frozen strawberry rhubarb margarita.
Mexican Marijuana Strains
Mexico's hot climate has always been a hot spot for the Sativa strains to prosper. According to Leafly, these strains below highlight some of the various Mexican heritage marijuana strains it has to offer. Take your celebration a step further and try incorporating these Mexican marijuana strains into your new infused drink recipes!
Haze
The energizing effects that come along with this strain can be a fun way to start your Cinco de Mayo celebration! The result of what we now know as the strain Haze includes a cross between Thai, Columbian, Mexican, and South African varieties. Ever since its creation in the 1960s, it's known for being a key player in Sativa breeding. Try infusing the Haze strain into your Cinco de Mayo celebration!
Acapulco Gold
This Sativa strain's name doesn't fall too far from its origins. Originated in Acapulco, Mexico the Acapulco Gold strain provides the user a dose of high energy to keep them feeling refreshed throughout their daily activities. This strain's sweet fruity flavor allows endless opportunities when pairing it with your infused drink of choice!
Trainwreck
If you are looking for that balance between body relaxation and a mood boost then Trainwreck strain is for you! The combination of Mexican and Thai Sativas and Afghani Indica resulted in this hybrid strain. For those who struggle with social anxiety, especially when it comes to parties and celebrations, this strain might be the perfect choice for you to try!
Final Thoughts
Just remember cannabis-infused beverages are similar to edibles, it can take time to kick in. Start low and go slow! Cannabis-infused beverages affect everyone differently, especially when mixed with alcohol. Make sure you inform people of the proper measurements within each glass, especially if they are first-time users. You don't want to be at fault for someone's unfortunate experience. If you overdo it, don't worry you can sleep it off and feel refreshed in the morning!
For the best cannabis strains that will accentuate your state of mind, take a look at our Lifestyle Spectrum and menu. To learn more about cannabis-infused drinks visit our blog or stop by a top-rated dispensary near you to meet with a cannabis guide that will help you find the perfect product (and the right measurement) to accompany your desired journey.
Happy Cinco de Mayo!
---
We use cookies to analyze our site usage and performance, and to ensure you get the best experience on our website. By using our site you consent to our use of cookies. See our privacy policy for more information.